Today we take the internet connection in our homes, offices almost for granted. Thanks to wide speeded Wi-Fi and GSM connections we can use internet on the move too.
Our laptop, tables and mobile phones are almost always connected to the ubiquitous internet backbone. However, this connectivity quickly fades when we leave the solid ground and set sail on vast seas.
About 71% of Earth's surface is made up of the ocean. The remaining 29% of Earth's surface is land, consisting of continents and islands. That means our elaborately constructed internet connections on land only covers one third of the whole world.
Not long ago, when a vessel would disembark from port, it would also unplug from the global communications network. The most convenient way to provide internet connection to all types of ships and off shore platforms by satellite since satellite can cover the vast oceans and provide connection on the move.
Today, an increasing number stay connected with VSAT – providing their crew and passengers with high-speed Internet access and phone service, monitoring weather patterns to cut fuel costs, filing regulatory documents and ordering supplies from sea to save time in port and generating business intelligence through a growing range of software applications. There are different types of solutions designed different connectivity needs of the maritime domain.
First there is the L band solutions. L band is an alternative satellite frequency providing extremely reliable communications across the world.  It has been used for the Global Maritime Distress and Safety System (GMDSS) for many years.  The good thing about the L band satellite connection is that one vessel can travel all round the world and can receive and transmit data through a relatively small antenna and inexpensive hardware. These services provide reliable, simultaneous voice and data connection for business. The negative side of the L Band is that the service is usually expensive and the bandwidth you get is very limited. It provides voice with data services that are much slower than VSAT and the new LEO super broadband and are generally only used for email, browsing and small downloads. So, we all know social media, streaming video applications do need large bandwidths to function properly.
Then there are classic and proven C, Ku and Ka band VSAT connections. Satellites transmitting in these frequencies do not have the large coverage area of the L band. However, they can offer higher bandwidth for their coverage area.
These connections require larger antennas; powerful transmitters and complex modems and antenna control units making the hardware acquisition very costly. The antennas for VSAT connection on board of a ship must be motorized in order to track the signals from the satellite whatever the route the ship is sailing.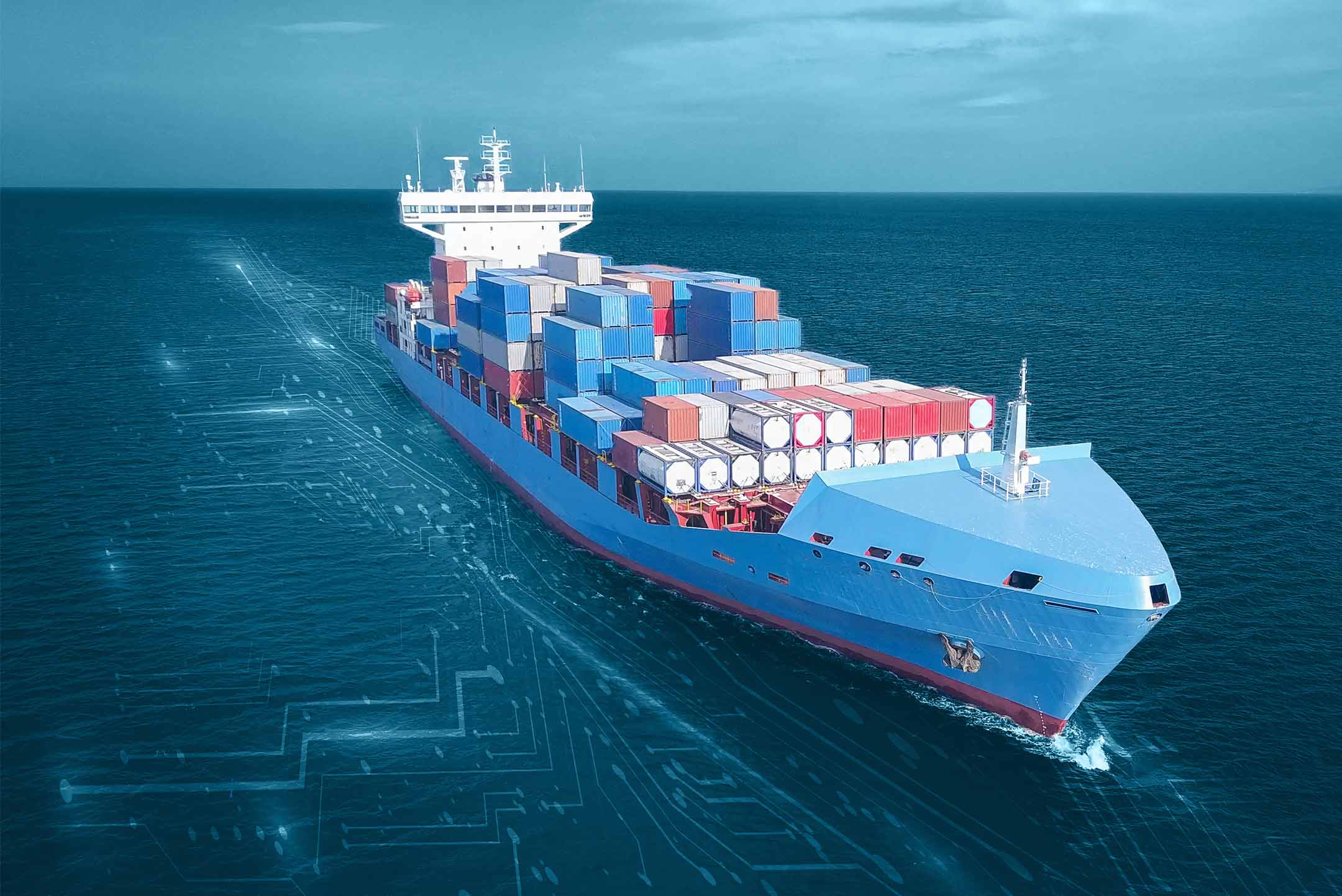 In the latest generation of High Throughput Satellite, operating mostly in Ka band vessels moving in the ocean can reach download speeds over 100 Mbps. Of course, the availably of these large capacities is subject to some conditions such as the antenna size on board of the vessel and the commercial availability of the services.
The VSAT connection on board can provide value-added services, such as communications services that improve crew welfare, and network services that enable companies to move mission-critical data from ship to shore, or from remote regions to headquarters.
The crew welfare is getting more and more focus in the maritime industry nowadays.
The next generation of seafarers grown up in an environment where social connectivity through internet is indispensable and constant.
For the shipping companies it is important to attract this next generation of seafarer and providing access to the internet and social communication would be a strategic approach to recruit and retain them on board.
The 4th meeting (Part II) of the ILO's Special Tripartite Committee (STC) for the Maritime Labour Convention, 2006 (MLC, 2006) was held as a hybrid meeting in Geneva from 5 to 13 May.
During this meeting it was decided to make the following amendments the Code relating to Regulation 3.1 – Accommodation and recreational facilities:
Guideline B3.1.11 – Recreational facilities, mail and ship visit arrangements
Replace paragraph 4(j) by the following:
(j) reasonable access to ship-to-shore telephone communications, where available, with any charges for the use of these services being reasonable in amount.
Insert new paragraph 8:
Shipowners should, so far as is reasonably practicable, provide seafarers on board their ships with Internet access, with charges, if any, being reasonable in amount.
Guideline B4.4.2 – Welfare facilities and services in ports
Insert new paragraph 5 and renumber the subsequent paragraphs:
Members should, so far as is reasonably practicable, provide seafarers on board ships in their ports and at their associated anchorages with Internet access, with charges, if any, being reasonable in amount.
These amendments reflect that parties regulating the labour conditions of the seafarers are in recognition the need of internet as a necessary amenity for today's sailors.
The Internet connection on board of a ship now not only a nice to have a service to conduct the daily activities to ensure safely navigation of the ship and arrival at and departure from ports. The internet connection is now as stated above among the rights of the seafarers.
Moreover, internet connection is also important for the continuing education and training of seafarers.
With the arrival of low earth orbit satellite constellations such as Starlink or OneWeb, with low latency and high throughput connection will without a doubt will affect how ships are connected to the satellite. The operators of these constellations need to address the maritime domain as their satellite will be spending most of their orbital time around the earth over the oceans.
One important milestone these new commers must reach is providing good and reliable after sales support both for their service and hardware. Marine environment is harsh and demanding. Any equipment failure or service interruption must be addressed quickly and solved in a very short period of time.  The existing satellite equipment producers and VSAT internet service providers have long-established world-wide repair networks and have 24 x 7 available customer support.
The future of the maritime satellite connection is ripe with options. According to Verified Market Research, the Global Maritime VSAT Market was valued at USD 2.17 Billion in 2018 and is projected to reach USD 5.96 Billion by 2026, growing at a compound annual growth rate of 13.57% from 2019 to 2026.  As new players enter satellite service market, there will be more options for connections in maritime domain. There will be ample options to choose from in terms of hardware and service for the different needs of connection of the shipowners and seafarers.